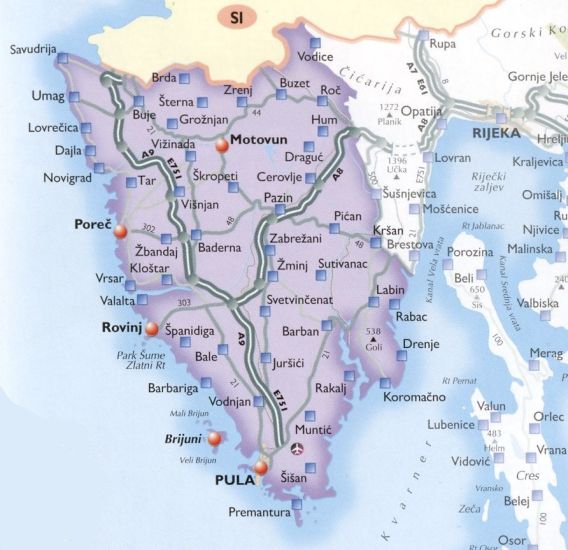 Istria is the largest peninsula in the Adriatic and nothing describes it better than the official tourist website…."indeed a feast for the eyes. Its streams flow to the sea through deep valleys and gullies which bring to mind the ancient local myths about giants. Rolling hills overlook the fields and valleys with little towns perched on the peaks, recalling some old paintings. The view is splendid: white-topped mountains, lush wheat fields, plateaus, valleys, vineyards and olive groves on hillsides, and, finally the sea…."
I visited Istria several times before, but only for a few days.  Earlier this Spring, Natasha and I went for a long weekend to Rovinj and took side trips to Buzet and Pazin.  We can't wait to come back….so much to see and do and so completely different than Dalmatia!  There are several blogs we wrote about Istria if you want to read our first-hand impressions:  Rovinj, one of many gorgeous Istrian coastal cities; truffle hunting in Buzet, one of its dreamy hilltop villages and a fun piece about "the smallest town in the world", Hum.  Istria really is its own universe, with a  look and feel that's hard to pin down–and the people who live here seem to know and value what they have going for them.  Until the end of WW2, Istria was actually a part of Italy–so we're happy that it's now part of Croatia.  A lot of Italians are still very much in love with Istria and make the short two hour drive from Venice to come here for a weekend–and we've heard, even to get "that special kind of Istrian food"!   The whole peninsula has gotten such rave reviews from travel writers and tourists alike that it's now referred to as "the new Tuscany".  Let's hope it's never gets as crowded and the prices stay where they are too!
OK, now it's your time to enjoy Istria, a truly marvelous part of Croatia!